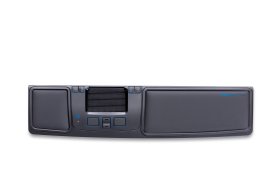 Kr 2250,00 ex moms
Varenr: MT123
Mousetrapper Prime Bluetooth

Everything you want from a Mousetrapper and a little bit more.
Prime's 8 programmable keys offer you significantly more options for customising your
Mousetrapper to your exact requirements.
With Prime, you can work wirelessly via Bluetooth – of course, you can use a USB
cable for connection if you prefer.
Download our MT Keys app to change key functions quickly and easily,
and to enter standard texts, user profiles and much more.
MT Keys is available for Mac and PC.

Super-slim, ergonomic design
Control pad with click and scroll functions
Option to work wirelessly with Bluetooth
8 programmable buttons for customisation to your needs, using MT Keys
Wrist supports can be cleaned with surface disinfectants
Replaceable wrist supports
Height adjustment with folding non-slip surface
4 months of battery life between charges
Rechargeable battery
2000 dpi
Bluetooth 4.1